About Us
Golden Flash Cartridges is an enterprise run by business partners, Greg Martin and Mary Woodlock.
Greg is an interesting person of many talents and has always had an interest in things mechanical and electrical. As a 15 year old he built a small television receiver which ended up being the winning entry in a school exhibition. Some of his teachers had trouble believing he actually made it!
He is proficient at spray painting and panel beating and is an A grade mechanic. He has built several special purpose vehicles, including a go anywhere bush buggy and a fire truck. His recent project is building a two seater single engine light aircraft.
Gregs shooting interests have always involved handloading and date back to his first pig rifle, an SMLE chambered for .303-25. He was involved in the construction SSAA Springvale rifle range in Melbourne Victoria. He has been a member since 1968.
Mary enjoys shooting and has represented South Australia as a member of a ladies full bore shooting team and can shoot a rifle at 1000 yards. She is is a self taught handloader and is very handy in the workshop. Mary also takes care of the Golden Flash Cartridges books and fills in where ever needed.
We are a manufacturing service, making a range of both new and reloaded ammunition.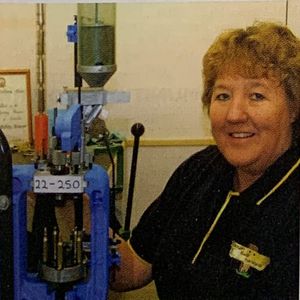 We work the tumblers and presses to produce any particular reload you may require and can reload your spent rifle or pistol cases to your specifications, provided they are within safe limits. We also stock reloads for most popular rifle cartridges from.222 Remington up to .300 Winchester Magnum.
In addition we carry a range of new centrefire cartridges which are standard loads in new cases. All centerfire ammunition is loaded to safe pressure levels so they are suitable for use in all firearms without causing pressure problems. We also carry a selection of commercially loaded ammunition including Falcon shotgun ammunition, .17 and .22 rimfire cartridges plus Federal and Hornandy centerfire rifle ammunition. These carry a higher cost than Golden Flash's Cartridge standard refills. Large runs of the more popular cartridges are assembled on Dillon progressive reload presses while short runs are done on single stage RCBS presses. Only the best of components are used which include ADI propellants, Federal primers and Sierra, Nosler or Hornady bullets. Special orders may require something different but will still be assembled from top quality components.
For all your ammunition and reloading needs you have come to the right place. Call into our shopfront and say hi or visit our online shop